This is an archived article and the information in the article may be outdated. Please look at the time stamp on the story to see when it was last updated.
WINSTON-SALEM, N.C. – There is controversy surrounding a candidate running for Mr. Winston-Salem State University.
Aaron McCorkle is a junior and he's openly gay.
Last week pictures of McCorkle dressed in drag were leaked online and now he's getting a lot of backlash from them. Some tweets from 102 JAMZ DJ Brian "B-Daht" McLaughlin are some of the most talked about backlash.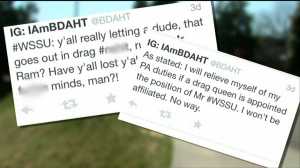 One of DJ B-Daht's tweets read, "Y'all really letting a dude that goes in drag, run for Mr. Ram? Have Y'all lost Y'all minds, man?!"
DJ B-Daht is also a sports announcer at WSSU. Another tweet read, "I will relieve myself of my PA duties if a drag queen is appointed the position of Mr. WSSU. I won't be affiliated. No way."
Aaron says he has read all the tweets.
"[They are] hurtful, discouraging, vicious," he said. "I would say it was ignorant as well. I feel the things that were said, it really hurt me to think that we have a WSSU alum going against a student running for a position that can also represent his university. It kind of hurt me.
FOX8 did reach out to DJ B-Daht. He respectfully declined our interview.
WSSU released a statement saying they don't condone anything that McLaughlin has said and they are disappointed in the situation.
Mr. WSSU will be named on Wednesday.