This is an archived article and the information in the article may be outdated. Please look at the time stamp on the story to see when it was last updated.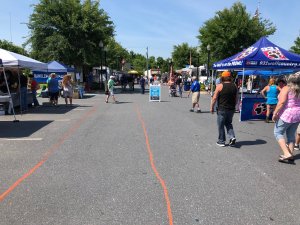 RANDLEMAN, N.C. — People lined the streets in downtown Randleman Saturday for the North Carolina Food Truck State Championship.
The event is a judged food truck competition that includes entertainment, activities and food. The championship runs until 10 p.m. Saturday.
The winner of the competition will win $1,000.
The food truck competitors are:
Arepa Street (Wilmington)
Buff-O-Lina (Raleigh-Durham)
Bulkogi (Raleigh-Durham)
Cherry on Top (Greensboro)
Fork-et-me Not (Nag's Head)
Frank's Top Secret Cafe (Winston-Salem)
Ghassan's (Greensboro)
Homeslice Pizza (Greensboro)
Holy Mole (Raleigh)
Kono Pizza (Raleigh-Durham)
Las Gringas (Raleigh)
Porterhouse (Greensboro)
Rosie's Spring Garden Diner (Greensboro)
The Shrimp Truck (Durham)
The Spiedie Turtle (Raleigh)
Uncle Ned's Jamaican