This is an archived article and the information in the article may be outdated. Please look at the time stamp on the story to see when it was last updated.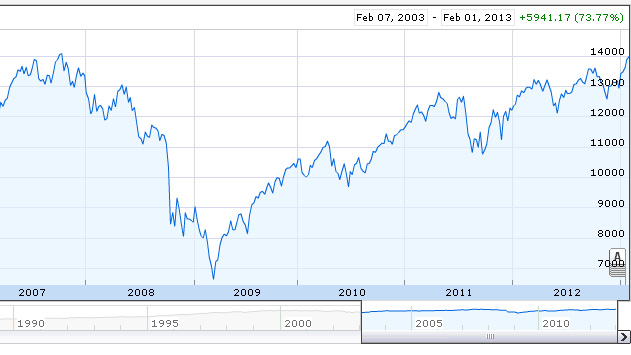 NEW YORK (CNNMoney) – U.S. stocks rallied Friday, with the Dow breaking above 14,000 for the fist time since October 2007 as investors welcomed a batch of strong economic data.
Less than an hour into the trading day, the Dow Jones industrial average jumped 140 points, or 1%, to hit 14,000.97. That marked the first time the blue-chip index topped 14,000 since October 2007. Within minutes it pulled back, but is still hovering just below the psychologically important level. The Dow is now less than 200 points, or 2%, from its all-time high of 14,198.10.
The S&P 500 and Nasdaq also gained 0.7%.
The strong advance followed reports on the job market, the manufacturing sector, construction spending and consumer sentiment, which all pointed to a healthy economic recovery.
The U.S. economy added 157,000 jobs last month, fewer than the 180,000 economists were expecting, but investors were encouraged by the government's revisions to its 2012 data. The revisions showed that the economy added 335,000 more jobs in 2012 than originally reported.
"The revisions point to a fairly healthy 181,000 per month trend in 2012, which is more than strong enough over time to bring down the unemployment rate," said Jim O'Sullivan, chief U.S. economist at High Frequency Economics.
In January, however, the unemployment rate ticked up slightly to 7.9% from 7.8% in December. Economists were expecting the rate to edge lower to 7.7%.
The stalled unemployment rate is "giving strength to the argument that the Fed will continue its bond buyign program and keep rates low, which is also a positive for the stock market," said Tom Schrader, managing director at Stifel Nicolaus.
The Fed's commitment to low rates is also boosting the bond market, said Schrader. The price of the 10-year Treasury rose, pushing the yield down to 1.96%, down from 1.98% late Thursday.
Meanwhile, the Census Bureau said that construction spending rose 0.9% in December, which was well above expectations.
The Institute for Supply Management's monthly manufacturing index rose to 53.1 in January, a sign that manufacturing sector is continuing to expand. Economists were expecting a reading of 50.5.
The University of Michigan's sentiment index rose to 73.8 in January. Economists were expecting a reading of 71.4.