This is an archived article and the information in the article may be outdated. Please look at the time stamp on the story to see when it was last updated.
GUILFORD COUNTY, N.C. — Did you feel that?
At about 12:32 a.m. Tuesday morning, an earthquake shook the Piedmont Triad, according to the U.S. Geological Survey.
The quake was centered around Chilton Road in Guilford County, near the Randolph County line, east of High Point.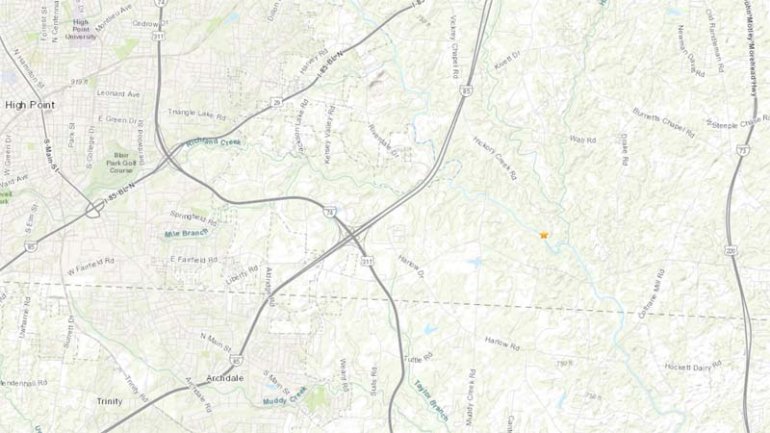 The USGS reports the earthquake at a magnitude 2.6.
Earthquakes of magnitudes 1 through 3 are typically "not felt except by a very few under especially favorable conditions," according to the USGS.
Many people, however, contacted FOX8 and emergency services to report sounds or a loud boom at about that time.
One viewer wrote, "Just minutes ago I could hear a rumble outside my house followed by a  something that shook the house."
Residents from as far west as Statesville to as far east as Cary reported they felt the quake, the USGS's website showed.
*laying in the dark and i hear a loud explosion and my furniture starts shifting, things are falling off the furniture/walls*

*calls communications*

RANDOLPH COUNTY & GUILFORD COUNTY JUST EXPERIENCED AN EARTHQUAKE!!!

— »ivez❁⋒ (@iveyleigh_) March 26, 2019
@HighPointPolice Just heard what sounded like a loud, deep, rumbling explosion. Shook the townhouse. about 12:36. Off of Eastchester Dr.

— Ralph Woodin (@rwoodin) March 26, 2019