This is an archived article and the information in the article may be outdated. Please look at the time stamp on the story to see when it was last updated.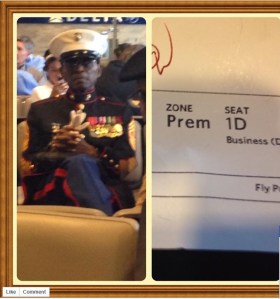 Did Carolina Panthers running back DeAngelo Williams give up his business class seat to a fake Marine?
Williams shared a photo of the Marine on Monday with the caption:
He just doesn't know it yet but he will be sitting in this seat when he boards the plane I always give up my 1st class seat! #isalutethetroops!
Shortly after posting the photo, many commenters suggested the Marine was a fake.
Several people pointed out uniform discrepancies, including the fact that the Marine was wearing his cover (hat) indoors. He was also wearing a shooting badge on the wrong side, according to several commenters.
The uniform the Marine was wearing in the picture is Dress Blue Alphas, which means the wearer is adorned with medals and no shooting badges. Dress Blue Bravos would mean the Marine would be wearing ribbons with shooting badges.
Guardian of Valor, a website dedicated to guarding "against imposters of pretended patriotism," posted an article detailing information they have gathered about the Marine. The website also obtained a photo of the Marine that was taken on July 1 at an airport in the Phillippines.
On July 1, a Marine approached the man in uniform because he felt he looked suspicious.
"I approached and conversed with him. I am a real Marine and could tell this guy obviously was not. I proceeded to lecture him in front of the entire airport for disrespecting true patriots."
The man shown in Deangelo Williams' photo  has not been identified and could not be verified as a Marine by Guardian of Valor.
Despite the controversy, Williams' gesture was still admired by people on social media. Williams addressed the criticism of the man in uniform:
"I always do that and for those of you that are saying I shouldn't have posted keep calm and enjoy my page and happy 4th of July (it's called being patriotic for life)."