This is an archived article and the information in the article may be outdated. Please look at the time stamp on the story to see when it was last updated.
WINSTON-SALEM, N.C. — Officials say an anonymous donor dropped a white gold and diamond necklace in a Salvation Army red kettle in Winston-Salem.
The jewelry was accompanied by a note which read: "It's real! in loving memory of Benny Phyllis : )"
Officials with The Salvation Army say the donation was made at the K&W Cafeteria on East Hanes Mill Road.
Last year, officials said a diamond ring was dropped in a red kettle at a different K&W Cafeteria with a note that contained the same message.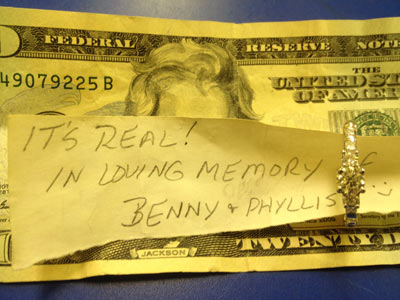 "We are grateful that someone entrusted us with something so valuable," said Major James Allison, Area Commander for The Salvation Army of Winston-Salem.  "While this is a great help, our Red Kettle campaign Triad-wide is still $38,000 behind where we need to be at this point."
Money raised during the Red Kettle Campaign allows The Salvation Army to help tens of thousands of individuals with rent and utility assistance, food and shelter at Christmas and throughout the year.