This is an archived article and the information in the article may be outdated. Please look at the time stamp on the story to see when it was last updated.
RALEIGH, N.C. — Pazuzu Algarad, the self-proclaimed Satanist accused of burying two bodies in the backyard of his former Clemmons home, is dead.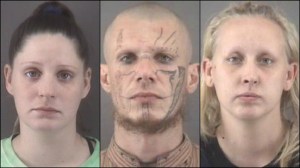 He was found dead around 3 a.m. Wednesday in Central Prison in Raleigh, unresponsive with a wound to his arm, during a regular inmate check, according to the Forsyth County Sheriff's Office.
Workers attempted unsuccessfully to resuscitate him and he was pronounced dead at 4:20 a.m. Authorities with the North Carolina Department of Public Safety say it was an apparent suicide.
Algarad and his girlfriend Amber Burch were arrested on Oct. 5, 2014, and charged in the murder and burial of two men at their home.
The two are accused of murdering Joshua Fredrick Wetzler and Tommy Dean Welch, then burying their bodies six years ago behind the home at 2749 Knob Hill Drive.
"I'm not even sure how I feel," Martha Wetzler — Joshua's mother — told FOX8's Michael Hennessey. "I'm kind of numb."
Martha said that her and her family have been waiting for the answer to the same question for years.
"I want to know why. Why he did that," she said. "But. I'm not so sure I'll get an answer to that."
Martha believes Algarad took the "coward's way out" by committing suicide.
"That only proves to me that he knew what he'd done and that he didn't want to be responsible for his actions," she said.
Algarad was moved to Central Prison in May of 2015 on a Safe Keeping Order; something Forsyth County District Attorney Jim O'Neill said is normally reserved for inmates with health or mental health issues.
Krystal Matlock is charged with accessory after the fact to first-degree murder. Burch is charged with one count of murder and one count of accessory after the fact. Burch and Matlock are still at the Forsyth County Detention Center.
"We don't celebrate the loss of life in these sort of situations. It's sad for [Algarad's family] and out of respect for them we just wouldn't have any further comment on it," O'Neill said.
O'Neill could not comment on how Algarad's death impacts the cases against Burch and Matlock.
A video of the Knob Hill home taken by a county housing inspector showed debris, animal carcasses and moldy ceilings. According to court documents, Algarad regularly performed "Satanistic rituals" and animal sacrifices at the house.
The home was deemed uninhabitable by Forsyth County Housing and Community Development. It since has been demolished and the empty lot is for sale.
(Credit: Forsyth County Housing and Community Development)

(Credit: Forsyth County Housing and Community Development)

(Credit: Forsyth County Housing and Community Development)

(Credit: Forsyth County Housing and Community Development)

(Credit: Forsyth County Housing and Community Development)

(Credit: Forsyth County Housing and Community Development)

(Credit: Forsyth County Housing and Community Development)

(Credit: Forsyth County Housing and Community Development)

(Credit: Forsyth County Housing and Community Development)

(Credit: Forsyth County Housing and Community Development)

(Credit: Forsyth County Housing and Community Development)

(Credit: Forsyth County Housing and Community Development)

(Credit: Forsyth County Housing and Community Development)

(Credit: Forsyth County Housing and Community Development)

(Credit: Forsyth County Housing and Community Development)

(Credit: Forsyth County Housing and Community Development)

(Credit: Forsyth County Housing and Community Development)

(Credit: Forsyth County Housing and Community Development)

(Credit: Forsyth County Housing and Community Development)

(Credit: Forsyth County Housing and Community Development)

(Credit: Forsyth County Housing and Community Development)

(Credit: Forsyth County Housing and Community Development)

(Credit: Forsyth County Housing and Community Development)

(Credit: Forsyth County Housing and Community Development)

(Credit: Forsyth County Housing and Community Development)

(Credit: Forsyth County Housing and Community Development)

(Credit: Forsyth County Housing and Community Development)

(Credit: Forsyth County Housing and Community Development)

(Credit: Forsyth County Housing and Community Development)

(Credit: Forsyth County Housing and Community Development)

(Credit: Forsyth County Housing and Community Development)

(Credit: Forsyth County Housing and Community Development)

(Credit: Forsyth County Housing and Community Development)

(Credit: Forsyth County Housing and Community Development)

(Credit: Forsyth County Housing and Community Development)

(Credit: Forsyth County Housing and Community Development)

(Credit: Forsyth County Housing and Community Development)

(Credit: Forsyth County Housing and Community Development)

(Credit: Forsyth County Housing and Community Development)

(Credit: Forsyth County Housing and Community Development)