This is an archived article and the information in the article may be outdated. Please look at the time stamp on the story to see when it was last updated.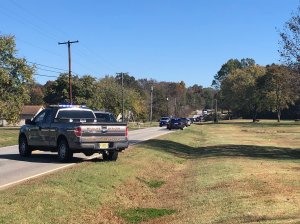 DAVIDSON COUNTY, N.C. — A domestic incident in the Linwood area led to the shooting of three people Wednesday morning, the Davidson County Sheriff's Office reports.
The sheriff's office confirmed a man is in custody and that three people were shot, including a deputy, the suspect and a woman. Deputies are not looking for any other suspects.
At about 9:45 a.m., deputies responded to a domestic situation at 167 Cox Avenue in Linwood, according to the sheriff's office.
The suspect was outside of the home when deputies arrived.
Sheriff Richie Simmons said in a news conference that a male deputy, who was among the first to respond, was shot. A deputy shot the suspect twice.
The deputy is alert and talking. He was taken to a local hospital.
No word on the condition of the suspect or the woman who was shot. No one else was injured.
Law enforcement is blocking off an area on Linwood-Southmont Road and Belmont Road, outside Lexington.
At about 10:36 a.m., a Lexington officer said reporters cannot pass on Linwood-Southmont Road because "they're still shooting."
FOX8 reporter Hayley Fixler spotted an armored vehicle and an SUV with emergency lights on driving quickly toward the scene.
This is as close as we can get to the Shooting scene. An officer just told me we cannot we pass here because "they're still shooting." You can hear a helicopter and more sirens in the distance @myfox8 pic.twitter.com/De3aT3xqmc

— Hayley Fixler (@HayleyFixlerTV) November 6, 2019
We are now less than 15 minutes away. We will update you with information as soon as we arrive @myfox8 https://t.co/gBp1VBXi3y

— Hayley Fixler (@HayleyFixlerTV) November 6, 2019
This helicopter has been circling the area. I'm told old the scene is about a half a mile down Old Lindwood Road @myfox8 pic.twitter.com/nWABZKIYcg

— Hayley Fixler (@HayleyFixlerTV) November 6, 2019