This is an archived article and the information in the article may be outdated. Please look at the time stamp on the story to see when it was last updated.
BEREA, S.C. — A Greenville County sheriff's deputy has been placed on administrative leave after he was seen forcefully subduing a man inside an Upstate Walmart on Saturday, according to Master Deputy Jonathan Smith.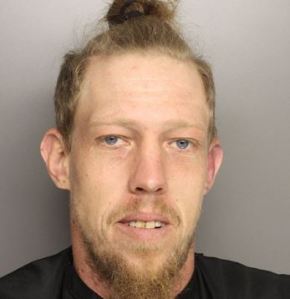 Several witnesses recorded videos showing the deputy shocking the suspect with a stun gun and striking the suspect numerous times. The videos were quickly posted and shared on social media, but Smith said there was much more that the cell phone videos did not capture.
"There's a whole lot more to this incident than could be seen on (the videos) that were posted on social media," Smith said.
Smith said deputies were called to the Walmart on White Horse Road just after 1 p.m. Saturday in reference to a man acting strangely and disturbing shoppers at the store.
Smith said deputies received three calls about the man, later identified as Sandon Matthew Sierad, 32. The first call came in at 1:06 p.m. where the caller was inside the Walmart. The second call came in at 1:10, in which the caller reported a suspicious person. The third 911 call was placed by Sierad, who called to report he could not find his vehicle in the parking lot, Smith said.
On Sunday, deputies released surveillance video recorded by Walmart's surveillance system, which Smith said showed Sierad inside the store before deputies arrived.
Deputies said the footage shows Sierad trying to break into a cash register in the electronics department.
Management then asked Sierad to leave and escorted him to the front of the store, Smith said.
Instead of leaving, Sierad was then seen entering the salon at the front of the store and harassing salon employees.
Next, Sierad went outside and can be seen standing next to a vehicle when Smith said the suspect called 911.
Smith said Sierad told dispatchers that his vehicle was missing and even accused dispatchers of stealing it.
When the first deputy arrived at the scene and attempted to speak to Sandon, Smith said Sierad appeared to be heavily intoxicated and uncooperative.
"(The deputy) knew that (Sierad) was possibly intoxicated," Smith said. "Some of his behaviors indicated this was more than just alcohol."
Surveillance also showed that Sierad tried to grab knife that a deputy stored on chest plate area on three occasions, Smith said.
When Sierad saw the second deputy arriving on scene, Smith said the suspect ran into the crowded store, which Smith said raised the threat level for deputies and shoppers. At that point Smith said deputies decided to place Sierad under arrest for public disorderly conduct.
Deputies chased Sierad inside where he continued to resist deputies, prompting one deputy to shoot him with a stun gun.
"He was Tased at least two times that we know," Smith said.
Cell phone video captured by witnesses showed one deputy striking Sierad multiple times.
Smith said the deputy's use of force was under investigation and that the deputy seen in those videos had been placed on administrative leave, pending the outcome of the internal investigation.
Smith said officers are trained to make decisions to ensure safety.
"We can't predict what a person is going through and how they're going to react. The main focus was the safety of the people in store and deputies."
Smith said the stun gun did not incapacitate Sierad.
"The video that citizens posted shows that the Taser has no effect on this guy," Smith said. "He sits up and reaches for the probes, trying to pull them out."
Smith noted that the videos posted on social media only provided a small window into the nearly 30-minute confrontation that had already occurred between deputies and Sierad.
Even after the suspect was in handcuffs, Smith said Sierad continued to resist, and it took several deputies to place him in foot restraints and get him into an ambulance.
Sierad was taken to Greenville Memorial Hospital and later booked into the Greenville County Law Enforcement Center.
Sierad was charged with resisting arrest with assault/injury, assault and battery third degree, breach of peace, and disorderly conduct. He is being held on a $7,449 bond.
Source: WHNS/CNN