This is an archived article and the information in the article may be outdated. Please look at the time stamp on the story to see when it was last updated.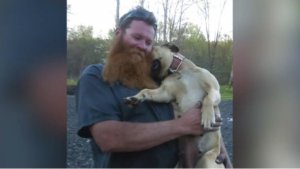 WENTWORTH, N.C. — Rockingham County District Attorney Craig Blitzer said at a news conference today that no charges will be filed against the deputies in the May 29 shooting death of Todd Burroughs.
Burroughs was driving his wife and two children home from a wedding when two deputies saw his pickup in the parking lot of a business along U.S. 220 Business, according to the State Bureau of Investigation. Burroughs pulled away as deputies approached shortly before 2 a.m. The deputies pursued Burroughs' vehicle for several miles with their blue lights on. Officials said the vehicle pulled into a driveway off Garrett Road and the deputies confronted Burroughs when he got out of his vehicle.
A struggle ensued and deputies used pepper spray and a stun gun on Burroughs before one deputy shot him as well his pit bull. Investigators said the dog charged. Burroughs' wife and two of his kids were inside the vehicle.
One of the deputies was wearing a body camera. About 45 seconds of a 40-minute long video was played for media today. Blitzer said a deputy only turned on his body camera just before the shooting, after Burroughs had taken his baton.
FOX8's Sarah Krueger said the footage is dark but the audio is clear. Burroughs can be heard cursing at deputies and a deputy is heard asking Burroughs to put down a baton that he had apparently grabbed from one of the deputies.
Burroughs' family attorney spoke after the news conference Friday saying the family is outraged that no charges are being brought against the deputies. He also said he and the family were not allowed into the press conference. The attorney said they are working on a civil suit against the Rockingham County Sheriff's Office.
The deputies involved in the shooting were Cpl. F.L. Martin and Deputy C.M. Myers. Martin has worked with the sheriff's office for 14 years, while Myers has worked there two months. Both men will return to full duty on Monday, Rockingham Sheriff's officials said.
Fam attorney says he and family were not allowed into press conference. Say that's a violation of 1st amdmt @myfox8 pic.twitter.com/PwDHCQooSE

— Sarah Krueger (@WRALSarah) July 22, 2016
Burroughs fam attny speaking now. Says they're outraged that no charges are being brought against deputies @myfox8 pic.twitter.com/sL27bqCxFU

— Sarah Krueger (@WRALSarah) July 22, 2016
Both deputies present for #ToddBurroughs shooting will return to full duty Monday, per @rockcosheriff. @myfox8

— Sarah Krueger (@WRALSarah) July 22, 2016
Footage is dark, but audio clear. Burroughs cursing at deputies, deputy asking Burroughs to put baton down. @myfox8

— Sarah Krueger (@WRALSarah) July 22, 2016
DA Craig Blitzer about to play a portion of body camera footage from Burroughs shooting. He says it's the "relevant" portion. @myfox8

— Sarah Krueger (@WRALSarah) July 22, 2016
DA says when Burroughs did pull over,he refused deputies' commands.Deputies 1st used taser, then pepper spray.Said both had little/no effect

— Sarah Krueger (@WRALSarah) July 22, 2016
DA says Burroughs was able to grab deputy's asp (baton).DA says body cam footage shows at least 14 different times asking him to drop weapon

— Sarah Krueger (@WRALSarah) July 22, 2016
"Burroughs' actions threatened the life of deputy Martin." – DA Craig Blitzer. @myfox8

— Sarah Krueger (@WRALSarah) July 22, 2016
NO CHARGES FILED against deputies. "It is abundantly apparent to me that Deputy Martins fired his weapon in self defense." -DA Craig Blitzer

— Sarah Krueger (@WRALSarah) July 22, 2016
Rock. Co. DA going over details in Burroughs shooting and what led up to it. Says Burroughs refused to pull over. pic.twitter.com/x12gFlgwQq

— Sarah Krueger (@WRALSarah) July 22, 2016