This is an archived article and the information in the article may be outdated. Please look at the time stamp on the story to see when it was last updated.
RANDOLPH COUNTY, N.C. — A Randolph County man has been charged with murdering his wife after a homicide investigation and house fire Friday morning.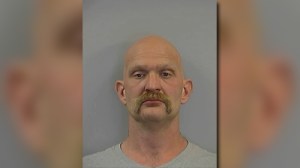 Joseph Levi Grantham, 44, of 4462 Woodfern Road, was charged with murder and fraudulently burning a dwelling.
Grantham is currently incarcerated in the Randolph County Jail where he is being held without bond.
Authorities said the suspect's wife, Constance Grantham, was found shot to death by deputies responding to a welfare call at the home around 12:45 a.m. Friday.
Officers said when they responded to the scene, they found the home's gas had been turned on, along with the burners.
Around 8 a.m. the same morning, authorities said the home caught fire as the murder was still being investigated. The fire is being called an arson.
Firefighters appeared to have the fire under control within about an hour. About half a dozen fire trucks were on the scene as flames tore through the back of the wooden home.
At around 10 a.m., investigators said the suspect was found by authorities in the woods about 200 yards from the home and taken into custody.
Authorities have not released a motive in the murder and are still investigating.
The home is in a rural area near Woodfern Baptist Church in Seagrove about six miles southwest of the North Carolina Zoo.
FOX8 interviewed some members of the community, who said they are not used to seeing this type of violence in the area.
The suspect reportedly worked by cutting down trees and was described as a nice person by people around town.
BREAKING: Deputy: Man taken into custody is person of interest in Seagrove homicide. Investigators say he lived in home that caught fire.

— Michael Spears (@MichaelKIRO7) December 6, 2013
BREAKING: Deputy: Person of interest being taken Into custody. #RANDOLPHCOUNTY pic.twitter.com/Nx7HJWas2W

— Michael Spears (@MichaelKIRO7) December 6, 2013
https://twitter.com/MikeSpearsWGHP/status/408953881893564416
BREAKING: Randolph County home at center of homicide investigation is going up in flames. Fire trucks just arrived. pic.twitter.com/DRxRIBpWOB

— Michael Spears (@MichaelKIRO7) December 6, 2013
BREAKING: The home where Randolph County deputies investigated a homicide early this morning is now on fire @myfox8 pic.twitter.com/J6KQY5X78x

— Michael Spears (@MichaelKIRO7) December 6, 2013