This is an archived article and the information in the article may be outdated. Please look at the time stamp on the story to see when it was last updated.
HOPKINS, Minn. - A man who did the right thing when he thought no one was watching is getting some well deserved national attention.
According to CBS Minnesota, 19-year-old Joey Prusak observed a visually impaired customer drop a $20 bill while waiting in line at the Dairy Queen he manages in Minnesota.
Another customer then picked up the money and placed it in her purse.
"The lady behind him picked it up, so quickly I thought she's going to help him … when she went and put it in her purse. She goes, 'It's my money.' I said 'OK, I'm going to ask you to live politely right now.' Then she made a big scene started swearing and then she stormed out,"
After the other customer refused, Prusak took $20 out of his own wallet to give to the visually impaired customer.
"I told him, 'You dropped $20.' I told him 'I would like to give him $20 on behalf of myself and Dairy Queen to try and make things right.'"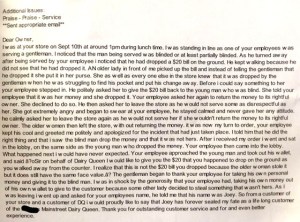 His act of kindness inspired someone to write a letter to Dairy Queen, praising Prusak. In the letter, the anonymous
After the story was shared online, the phone is ringing off the hook at his Dairy Queen. People are calling to thank the 19-year-old for doing the right thing.
"I did what I thought was right, and I guess in the long run a lot of people think it was the right thing to do too," Prusak said.
Prusak said he plans to go to college in the spring and says one day, he'd love to own his own Dairy Queen.