This is an archived article and the information in the article may be outdated. Please look at the time stamp on the story to see when it was last updated.
GREENSBORO, N.C. — The much-anticipated grand opening of The Cheesecake Factory at 3124 W. Friendly Ave. was underway Tuesday -- with lunch lines wrapping around the building.
The new restaurant, which opened at about 11:15 a.m., brought an early rush of approximately 80 customers. More than 40 stood outside waiting to gain entrance at noon.
The restaurant is at the intersection of Friendly Avenue and Pembroke Road at Friendly Center and is approximately 8,150-square feet and seats approximately 220 guests indoor and out.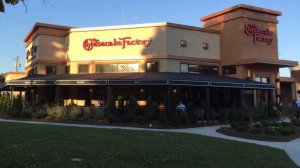 The Greensboro location hired 255 staff members prior to a series of invite-only training meals served last week.
The opening brought excitement for many Piedmont Triad residents Tuesday as the lively crowd made its way into the building.
"I travel a lot and I've always enjoyed the Cheesecake Factory, so it's great to have one a little closer in proximity," said Winston-Salem resident Freddie Marshall. "We are really excited to have a restaurant of this caliber in the Piedmont Triad and we hope there are more to come."
Marshall, who attended with his wife, decided to keep his order simple, going with the restaurant's chicken and biscuits.
Another customer decided to attend the opening to see what the excitement was about.
"This is a good day to be at the Cheesecake Factory," said Greensboro native Willie Singletary, as he snacked on his buffalo strips. "This is a really good thing for the area and I'm glad I stopped by."
Hours of operation:
Monday through Thursday - 11:30 a.m. to 11 p.m.
Friday and Saturday - 11:30 a.m. to 12:30 a.m.
Sunday - 10 a.m. to 11 p.m.
More questions? Visit the website.