This is an archived article and the information in the article may be outdated. Please look at the time stamp on the story to see when it was last updated.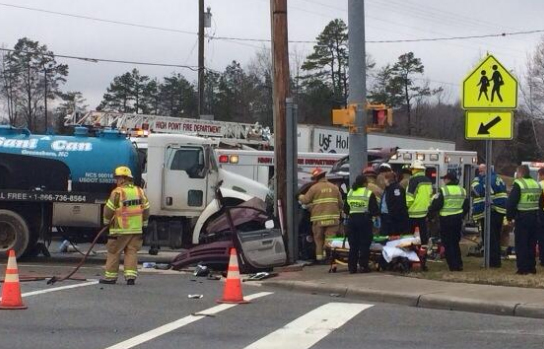 HIGH POINT, N.C. — A 61-year-old Trinity woman died and a 68-year-old Jamestown man was seriously injured in a wreck on Kivett Drive on Wednesday.
The accident happened around 1:23 p.m. at the corner of Kivett Drive and Dillon Road.
Capt. Mike Kirk said a man driving a minivan east on Kivett Drive attempted to turn left at the stoplight onto Dillon Road and drove into the path of a septic truck.
Joyce Ashburn, 61, of Trinity, was a passenger in the van and died at the scene, according to Capt. Mike Kirk.
The driver of the van, Ronald Ray Dunn, 68, of Jamestown, was extricated from the vehicle and taken to High Point Regional Hospital with serious injuries.
The driver of the SaniCan truck had the right-of-way and pushed the van into the utility pole, pinning the victims inside, Capt. Kirk said.
The driver of the truck received minor injuries.
Capt. Kirk told the News & Record the victims were related but not married.
Alcohol was not a factor in the collision.
Traffic Alert- Kivett Dr & Dillon Road both closed due to the car vs truck accident. @myfox8 pic.twitter.com/1lDp0NlTL1

— Chris Weaver (@chris8video) March 19, 2014
The driver from the bad wreck at Kivett & Dillon was extricated, conscious & alert. pic.twitter.com/2zmsJEkHvN

— Chris Weaver (@chris8video) March 19, 2014