This is an archived article and the information in the article may be outdated. Please look at the time stamp on the story to see when it was last updated.
WINSTON-SALEM, N.C. — Several adults and children escaped an early morning apartment fire in Winston-Salem Monday.
Officials reported the blaze around 4 a.m. in an apartment at Colonial Village at Glen Eagles on Braehill Terrace Drive. It was contained about an hour later.
Officials say 17 adults and seven children were displaced by the fire. All got out safely.
Battalion Chief A.T. Byrum said those displaced are staying warm in the pool house at the complex. One person suffered a minor cut to his or her foot, but no serious injuries were reported. No one had to go to the hospital.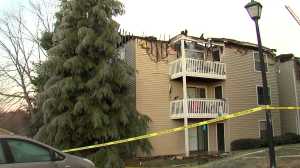 Byrum said this morning's cold weather was challenging. "The water is freezing on the sidewalk, it's freezing on the ladders, so we're having to use extreme caution with that," he explained. He also said firefighters were alternating taking breaks to stay warm.
The American Red Cross is working to help find shelter for the residents.
"We will work with the apartment managers to see what we can do relocating residents into apartments that may be vacant," said Jeff McPherson with the American Red Cross. "We've had several different emergencies this weekend stretching from Alamance to Davidson and High Point. Last night we also had another emergency in Surry County where [more than] 16 residents were displaced and we had to set up shelter in Mt Airy for them."
He added that they will work with local hotels to provide shelter to those displaced in Winston-Salem if necessary.
Assistant Fire Chief Freddie Broome tells Fox8 the fire was caused by electrical shortage outside the building. The fire was ruled as accidental. Broome said the fire started in the back of the building and worked upward toward the attic.
Four units were destroyed in the fire and eight others have major water damage.
A witness said flames were visible from U.S. 421.
Annie Gustafson lives near where the fire started in the apartment complex and works at the American Red Cross in Winston-Salem.
Her sister woke her up early Monday, worried about the close proximity of the fire. "I look out the window and all I could see were flames," she said.
"There were a lot of first responders there already so we just felt kind of helpless. Honestly there wasn't much we could do, and it was extremely cold," Annie added. "Embers and ash and that sort of thing were flying through the air and coming our way."
She did not have to evacuate, but is thinking about those who did. "It's very important to be thankful for what you have and not take things for granted."
McPherson said all pets safely escaped the blaze, too. "It is a very busy time and that's why we need the public's support right now. Because as we go out and give support to every single one of these cases, the financial support given to the American Red Cross allows us to do that."