This is an archived article and the information in the article may be outdated. Please look at the time stamp on the story to see when it was last updated.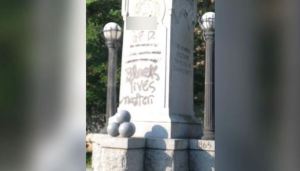 DURHAM, N.C. — Vandals have spray-painted "black lives matter" on the Confederate monument located next to the old Durham County Courthouse on East Main Street, WTVD reported.
The attack is similar to ones at the "Silent Sam" Confederate memorial on the campus of UNC Chapel Hill and another at the Confederate memorial in Durham's Maplewood Cemetery.