This is an archived article and the information in the article may be outdated. Please look at the time stamp on the story to see when it was last updated.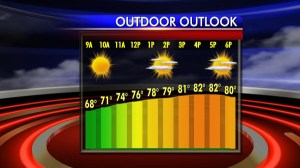 A cold front rolled across North Carolina Thursday night; and we're going to enjoy cooler, dry air for the next couple of days as a result.
Mostly-sunny skies are ahead for Friday with highs around 82 degrees. Dew point temperatures will be in the mid-50s, which will be absolutely perfect for anything done outdoors.
High pressure to our northeast will usher in light east winds overnight. This will produce partly-cloudy skies across the western Piedmont. Temperatures will be pleasant, in the lower-60s by daybreak Saturday.
If you are headed to Downtown Greensboro over the weekend, enjoy the sights, sounds and smells! The East West BBQFest is this weekend!