This is an archived article and the information in the article may be outdated. Please look at the time stamp on the story to see when it was last updated.
A cold front has moved through the Piedmont and behind it, our weather will be superb!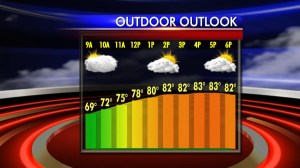 Temperatures and the relative humidity will be much lower Thursday, and winds will be steady out of the north-northeast. Expect highs to be near 83 degrees Thursday afternoon with dew points in the lower 60s. Our skies will become partly cloudy by the afternoon, then mostly clear overnight.  Low temperatures in the mid-60s will be crisp and comfortable by daybreak.
The dry weather will stick around for Friday, but showers and thunderstorms will return to the forecast by the weekend. Up to an inch of rain can be expected in the Triad over the next five days.
Tropical Storm Dorian continues to churn across the Atlantic.
LIVE: Interactive Hurricane Tracker