This is an archived article and the information in the article may be outdated. Please look at the time stamp on the story to see when it was last updated.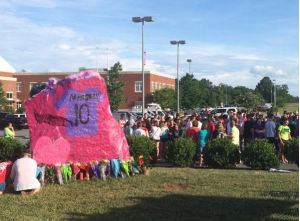 CONCORD, N.C. — Students gathered Sunday night to remember a classmate killed while on Lake Norman July 4.
Friends told WSOC Sheyenne Marshall, 17, died when a boat hit her on Lake Norman Saturday night.
Officials said Marshall was on a kneeboard when a pontoon boat hit her from behind and ran over her.
Friends on the boat called their loved ones to break the news. Parents told reporter Brittney Johnson their children were distraught to learn their classmate died on the lake while celebrating July 4 with friends.
READ MORE: WSOC