This is an archived article and the information in the article may be outdated. Please look at the time stamp on the story to see when it was last updated.
JACKSON, Miss. — A Mississippi woman says her 3-year-old granddaughter was asked to leave a KFC restaurant in Jackson because of her facial scars.
Victoria Wilcher lost her right eye and suffered a broken jaw, broken ribs and several puncture wounds when she was attacked by three pit bulls in April.
She had just been released from the hospital after a month of recovery. Restricted to only soft foods, Wilcher's grandmother says she went to KFC to get her mashed potatoes and gravy.
She said they went to the restaurant, ordered their food and sat down. The grandmother said she started feeding Wilcher when a worker came over.
"She said that we'd have to leave, we were disturbing her other customers, Victoria's face was disturbing other customers," the grandmother said.
On hearing the news, Victoria Wilcher's family took to Facebook with a post of her face and a message reading "does this face look scary to you?" The message went on to say they will never set foot in another KFC.
The KFC corporate offices reached out to the family and released a statement saying it has zero tolerance for any kind of hurtful or disrespectful actions toward guests.
The company said they are committed to doing something appropriate for this "beautiful little girl and her family."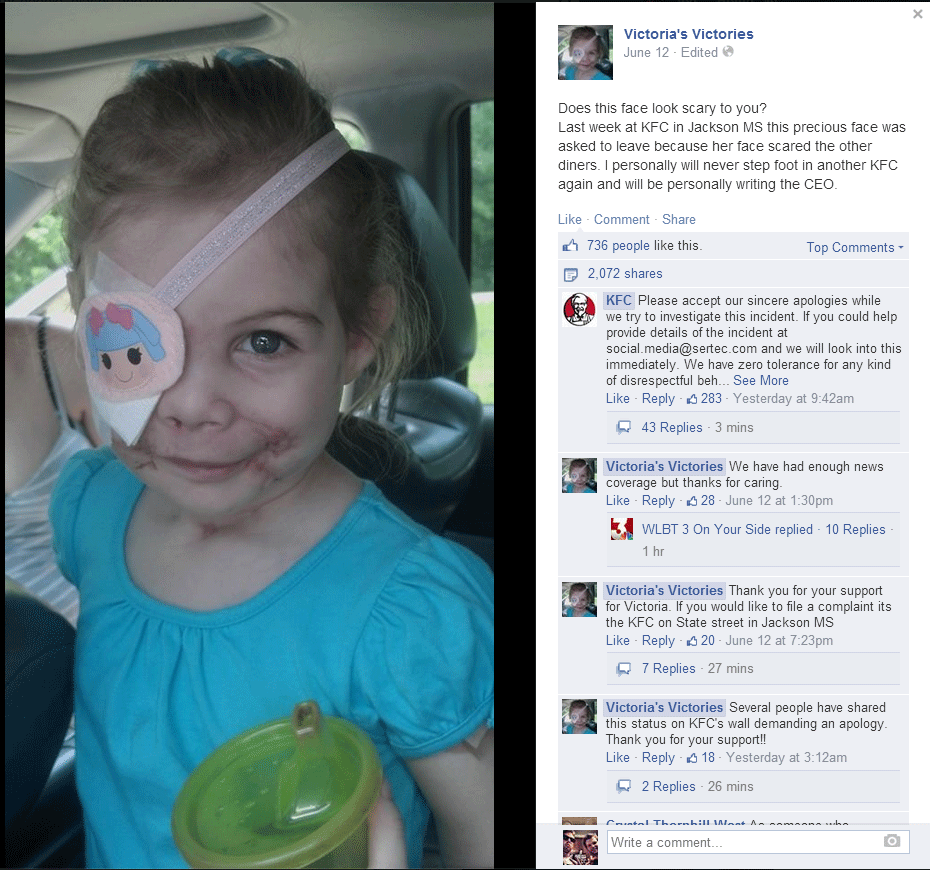 CNN contributed to this report