This is an archived article and the information in the article may be outdated. Please look at the time stamp on the story to see when it was last updated.
WINTERVILLE, N.C. — A quick-thinking North Carolina 7-year-old girl is credited with saving her family not once but twice from a fire.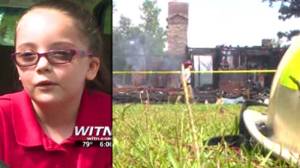 WCTI-TV reported that Sage Lewis helped her family escape a fire at their home in Winterville.
The first fire started around 6:30 p.m. Thursday in the kitchen. The fire then rekindled around 3 a.m. Friday, destroying the home.
In both instances, Sage alerted her family and they escaped safely.
The family said Sage had been doing fire drills at her school and apparently knew exactly what to do.
Read more: WCTI-TV