This is an archived article and the information in the article may be outdated. Please look at the time stamp on the story to see when it was last updated.
Summer is finally here and the kids are out of school.
That means kids have a lot more free time, so parents have to find cheap ways to keep them entertained.
Here are just a few ideas for keeping your kids busy for less than $20.
Giant Tic-Tac-Toe 
Here's what you need from the dollar store to make a giant tic-tac-toe board:
Shower curtain or sheet -- $1
Electrical tape -- $1
6 frisbees or disc shaped dog toys -- $6
Total: $8
For directions on how to make the giant tic-tac-toe board visit the blog A Turtle's Life For Me.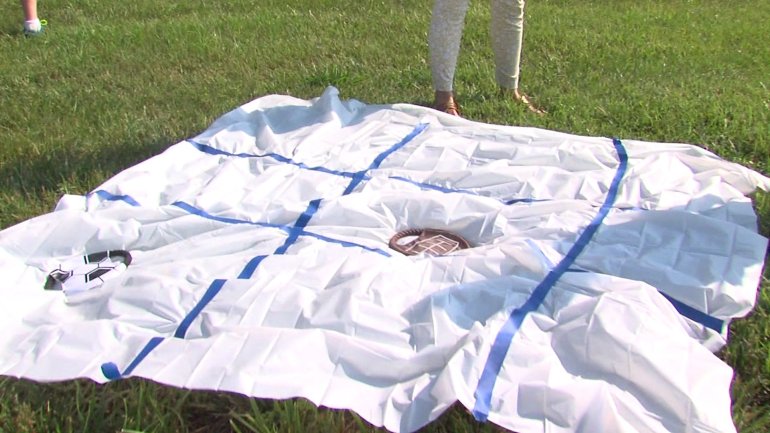 Backyard Olympics
Here are the materials you need to get the neighborhood together for a day of Olympic games:
3 buckets with shovels -- $3
Water balloons -- $1
3-pack of balls -- $1
Optional -- Chalk and hula hoops -- $2
Total: $4 (excluding optional items) 
The blog A Small Snippet has some great ideas for other games as well as Olympics-themed snacks.
Hula Hoop Hideout
Here's what you to create your own hula hoop hangout:
1 hula hoop -- $1
twine -- $1
Shower curtain or sheet -- $1
Total: $3
This project is great for kids after a long day playing in the sun. You can put out a blanket and pillows so your hideout is extra comfortable.
For directions on how to make the hideout visit The Craft Nest blog.
Backyard Twister 
Materials:
4 cans of spray paint in different colors
Circular cardboard cutout
For directions on how to create the backyard Twister game visit the blog One Good Thing.
https://www.pinterest.com/pin/131800726571162660/
Fort Building Kit
Materials:
Clothesline
1 pack of clothes pins
Mini flashlights
2 or more flat sheets
1 pack of suction cups
This is a great activity for a sleepover!
For information on how to put the kit in a cute carrier visit the blog Cinnaberry Suite.
https://www.pinterest.com/pin/9148005469244073/