This is an archived article and the information in the article may be outdated. Please look at the time stamp on the story to see when it was last updated.
WINSTON-SALEM, N.C. -- Forsyth County prosecutors say they are no longer proceeding with felony charges against the two women police say took video of themselves giving marijuana to three young children, ages 18 months to 3 years old.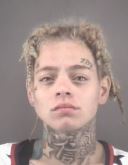 Michaela Pearson, 21, and Candice Little, 18, made their first court appearances Thursday morning, answering for three counts of felony intentional child abuse inflicting serious bodily injury as well as three counts of contributing to the
delinquency of a minor.
The pair were arrested on Tuesday after police received numerous reports of a Facebook video showing the children being given what appeared to be an illegal substance.
After research and looking at the law, Forsyth County Assistant District Attorney Sarah Loebner tells FOX8 that prosecutors informed the judge that they didn't feel comfortable going forward with the felony charges.
"Ethically, as prosecutors, we have to follow the law as it's written and can't follow the law as we would like it to be. So, even though we think this is a horrible, horrible thing that happened to these children, we did inform the court at that time that at this point in the investigation we are not proceeding with the felony charges," Loebner said.
As Loebner explained, the way North Carolina law is written, prosecutors would have to prove a serious bodily injury occurred due to Pears
on and Little's alleged actions.
"While I can't comment on the actual facts of the case, the evidence that we have, we just do not believe we can meet that threshold at this point," she said.
After prosecutors informed the judge of their intentions, defense attorneys for both women decided they would like to be heard on their clients' bond amounts. Judge Carrie Vickery then reduced their bonds from $150,000 secured to $100,000 secured.
Loebner added that the DA's office is still gathering details from police, including medical records, and they will make sure they have all of the evidence. At this point, the charges have not officially been reduced.
"We try to prosecute everyone as fairly and as justly as possible and we feel like having all the information makes us fair and just prosecutors, Loebner said.
As for when the charges would be reduced, Loebner says it could happen at the women's next court date -- Sept. 13 -- or further down the road.
"We're going to do as much as we can to make sure that they are held accountable for their actions, but we have to do it within the bounds of how the law is written," she said.
If the women's charges are reduced to misdemeanor child abuse, they would still be the highest-level misdemeanors in North Carolina and both would still be facing possible jail time.​