This is an archived article and the information in the article may be outdated. Please look at the time stamp on the story to see when it was last updated.
By Scott Sexton/The Winston-Salem Journal
The photographer, thoroughly a professional, unpacked his gear slowly. Cameras, lights and a stand, each with a specific job to do, all laid out in the dining room of an apartment complex for senior citizens.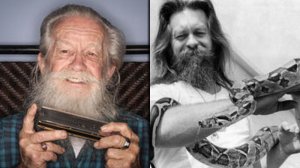 One of the residents, a slight, sprite of a man named Joe Crosson, looked on quietly, studying the scene with the measured curiosity of one who had spent his life observing others and learning how to do things on his own. His clothes were nondescript, gray slacks and a long-sleeved plaid shirt buttoned to his chin. And when he first spoke, his voice tended toward the quiet side.
If not for a mane of long, flowing white hair and an unruly beard and mustache that nearly obscured his teeth, he might have gone unnoticed.
Then the photographer pointed a camera at him and a flash went off. Crosson gripped his harmonica and prepared to play a tune. His eyes lit up, and a wide smile creased his lined face.
Tattoo Joe — a man who has at various times been a fire-eater, tattoo artist, snake-show operator, musician, entrepreneur and self-promoter — had the floor.
Read full story: The Winston-Salem Journal