This is an archived article and the information in the article may be outdated. Please look at the time stamp on the story to see when it was last updated.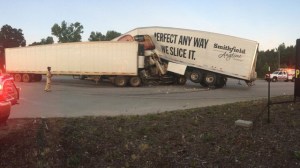 PAGELAND, S.C. — South Carolina troopers were investigating after two tractor-trailers collided in Chesterfield County, blocking a busy highway early Monday morning, according to WSOC.
The Highway Patrol was called to the crash scene around 4:30 a.m. after two big-rigs crashed on U.S. 601 near Philadelphia Church Road, close to Pageland.
Pageland Rescue Squad and High Point Fire Department also responded to the crash and officials told WSOC that both drivers would be OK.
Tow trucks were called to the scene to remove the semis and DOT officials were helping clean up diesel fuel that spilled in the crash.