This is an archived article and the information in the article may be outdated. Please look at the time stamp on the story to see when it was last updated.
ASHEVILLE, N.C. — A man has been arrested and is charged with assault after a brutal attack at an Asheville bus station, according to WLOS-TV.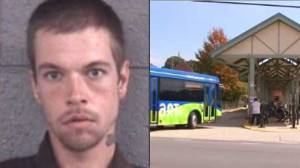 The attack happened early Thursday morning after the bus station closed. Several people who saw the attack called 911.
"I am walking downtown and just witnessed a man raping a woman," one 911 caller said.
"I think we just need police to come get this man who is raping her as I walked past worried about my own safety," another 911caller said.
David Ugo, 26, was arrested near the station. Ugo is charged with assaulting and stealing the woman's phone, wallet and cash. Now search warrants suggest he could face a rape charge.
The attack was captured on security cameras.
Police would not release the video saying it's evidence in the case. The detective described the video to News 13.
"Ugo appears to assault the victim several times by striking her with his hand. Throughout the video, the victim was observed actively resisting."
Ugo is scheduled to be back in court Oct. 23 for face the initial charges. A possible rape charge is still pending.