This is an archived article and the information in the article may be outdated. Please look at the time stamp on the story to see when it was last updated.
BRUNSWICK COUNTY, N.C. — Brunswick County will take to the skies to fight their post-Hurricane Florence mosquito problem.
The county announced a new aerial spraying plan Tuesday with sprays planned from Tuesday to Thursday weather-permitting, according to a release.
As the county sprays insecticide overhead, officials warn citizens to stay indoors in the evenings if possible.
Aerial sprays were scheduled beginning just before dusk until about 10:30 p.m.
This plan comes as part of Brunswick County's emergency response after Hurricane Florence poured heavy rains and flooded the coastal county.
"Heavy rains and flooding can lead to large populations of mosquitoes," Brunswick County said in the release. "Some mosquitoes carry viruses that may cause illnesses such as La Crosse encephalitis, West Nile virus and eastern equine encephalitis."
The aerial sprays are not expected to completely eliminate mosquitoes but will reduce their numbers.
Brunswick isn't the only county using this tactic. Carteret County has also since announced plans to use aerial spraying to fight back against mosquitoes.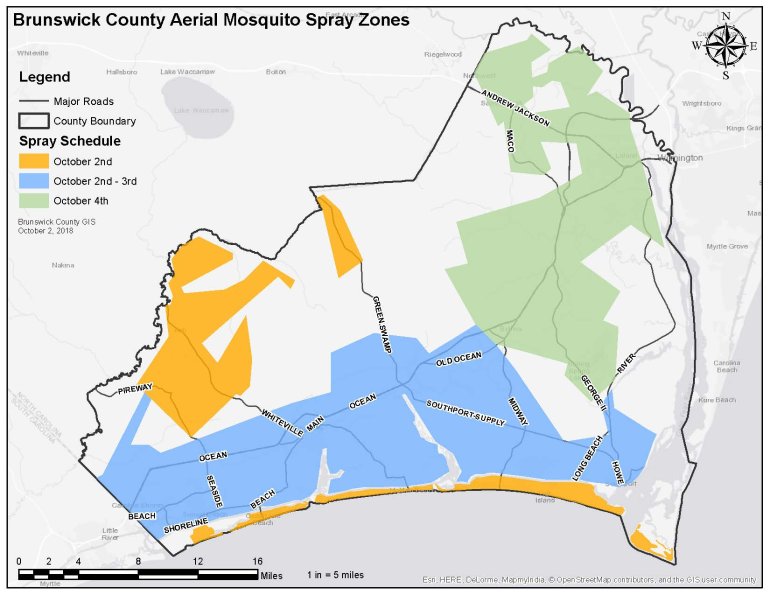 "This process starts after every hurricane. We've worked every hurricane since 1996," VDCI Aerial Division Manager Malcolm Williams told WECT.
In Brunswick, Vector Disease Control International will spray the insecticide naled from three planes.
The naled will be sprayed as 30 micron droplets, about the diameter of a human hair, and kill the adult mosquitoes on contact.
VDCI will use 0.66 ounces per acre, fewer ounces than a packet of Sweet n' Low, Williams told WECT.
Williams said naled works 95 percent of the time.
The U.S. Environmental Protection Agency reports that the agency does not expect naled to raise human health concerns when used in this way.
"Because of the small amount of naled released… exposures are below an amount that might be expected to pose a health concern to children or adults," the EPA reports.
The spraying mission began on Sept. 24 with trucks at about the time the county request for the emergency aerial response.
Brunswick County plans to follow up with ground-based operations after evaluating the situation following the aerial spray.
Mosquitoes 3 times bigger than normal swarm North Carolina after Hurricane Florence
North Carolina has recently become home to some very large mosquitoes following Hurricane Florence.
The mosquitoes are described as "aggressive, monstrous pests with stripes on their legs" by USA Today.
North Carolina State University entomologist Michael Waldvogel told USA Today the large pests are called "Gallinippers" or "Psorophora ciliata."
They can be three times as large as average mosquitoes. The floodwaters after Hurricane Florence can cause dormant eggs to hatch, spiking their population into the billions.
North Carolina resident Cassie Vadovsky posted video to Facebook showing a swarm of the blood-thirsty insects outside her car at her home.
She captioned the video: "This, this is what I'm dealing with 
 #nc#afterflorence#helpme#mosquitoplague#prayfornc."
Vadovsky's video has been viewed more than 260,000 times.
Experts told USA Today they expect the current plague of mosquitoes to die down in the coming weeks as the weather gets colder.