This is an archived article and the information in the article may be outdated. Please look at the time stamp on the story to see when it was last updated.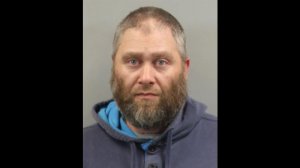 ASHEBORO, N.C. — It's been six years since a man called 911 to report that he had found his girlfriend dead.
Now, Roger Lee Martin, 41, has arrested for 31-year-old Nova "Nikki" Robinson's killing, according to Asheboro police.
At about 5:45 p.m. Monday, officers arrested Martin at 958 Louya Road in Lexington.
Years earlier, at 6:07 p.m. on Jan. 28, 2013, Martin called police, saying his girlfriend was dead, according to Asheboro police.
In the chilling 911 call, Martin told operators that he did not know "who would want to hurt her" and that she had a "hole" in her throat.
Officers responded to the home at 302 Cherokee St. and found Martin holding Robinson, who was lying on the floor in a pool of blood.
She was pronounced dead at the scene.
Her death would launch a more than six-year investigation, one which constantly led police back to interviews with Martin.
"There were many questions surrounding the case that Roger Martin could not give a logical response to," the police department said in a news release. "Advanced DNA testing enabled our detectives to satisfy all open questions that they had surrounding the investigation. We are completely satisfied without question that Roger Martin killed his then girlfriend Nova 'Nikki' Robinson."
Robinson was a mother of two and studied at Randolph Community College to become a registered nurse.
Angela Jackson, Robinson's mother, told FOX8 near the five-year anniversary of her daughter's death, "There's no such thing as closure. Closure means going back to the way it was and we can't go back to the way it was."
When asked about how she felt after hearing the news of his captured she said, "Just will be a little weight off of me."
She explained how seeing her daughter killed in such a brutal way has left her with no chance of returning to normal.
"I'm forever changed," she said. "The five stages of grief, you think you go through them and then they stop. But in reality they just recycle."
When asked about her thoughts on Martin, she said she could tell how the past few years have impacted him.
"It looks like he's been through the ringer. I mean, I reckon carrying that secret around with you will do it to you. Because I know what's it's done to me and I'm not the one who killed her," she said.
Jackson said she hopes to one day be able to look her daughter's killer in the eyes and tell them the damage they have done.
She plans to attend all of Martin's court hearings.