This is an archived article and the information in the article may be outdated. Please look at the time stamp on the story to see when it was last updated.
INDIANAPOLIS (WXIN) — A 3-year-old Indiana boy with stage 4 cancer was appointed as the youngest sheriff's deputy in the United States Wednesday.
Wyatt Schmaltz, who is being treated at Riley Hospital for Children at IU Health for stage 4 neuroblastoma, was sworn in around 11 a.m. from his hospital room. Sheriff Terry Stoffel with the Huntington County Sheriff's Department, along with Indiana State Police trooper Robert Jeffers, presented Wyatt with an official hand-sewn uniform, badge and special powers. They said it was an official designation, not just an honorary title.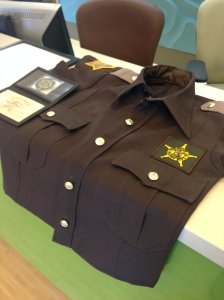 "We have given him all the powers of a real sheriff deputy, which are to carry out the orders of the sheriff," said Sheriff Stoffel. "Right now, his only orders are to get better."
Officials said Wyatt was made a sheriff's deputy for the courage he has demonstrated throughout his entire life.
Wyatt was diagnosed in April 2014 and has undergone four rounds of chemotherapy. Doctors said he will need surgery to remove a tumor in his abdomen. He will then need a fifth round of chemo and a stem cell transplant, using his own stem cells.
The 3-year-old was recently given therapy that spurs the body to produce fresh, untainted stem cells that can be harvested for later stem cell transplantation. Riley at IU Health is the only provider of pediatric stem cell transplantation in Indiana.