This is an archived article and the information in the article may be outdated. Please look at the time stamp on the story to see when it was last updated.
TOLEDO, Ohio — An 8-year-old decided to use $20 he found in a Cracker Barrel parking lot to thank a soldier who reminded him of his father.
CBS News reported the gesture took place at a Cracker Barrel restaurant in Toledo, Ohio on Feb. 7.
Myles Eckert entered the restaurant with his family after finding $20 in the parking lot. He said he was very excited because he had just found the money and was thinking of things to spend it on, including a video game.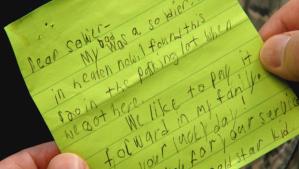 But Myles changed his mind when he saw Lt. Col. Frank Dailey. The child decided to give the soldier the money, along with a thank you note.
"Because he was a soldier, and soldiers remind me of my dad," Myles said, according to CBS.
The note reads:
"Dear Soldier – my dad was a soldier. He's in heaven now. I found this 20 dollars in the parking lot when we got here. We like to pay it forward in my family. It's your lucky day! Thank you for your service. Myles Eckert, a gold star kid."
Army Sgt. Andy Eckert was killed in Iraq, five weeks after Myles was born. Myles said he imagines his dad as a nice person.
After the family left Cracker Barrel, Myles told his mom he wanted to go see his dad.
"He wanted to go see his dad. He wanted to go by himself that day," said Tiffany Eckert.
Lt. Col. Dailey said the note gives him a lifetime direction. He said he looks at it every day.
Source: CBS News