This is an archived article and the information in the article may be outdated. Please look at the time stamp on the story to see when it was last updated.
KERNERSVILLE, N.C. — With the holiday season in full swing, many area residents will be taking the long way home, according to the Winston-Salem Journal.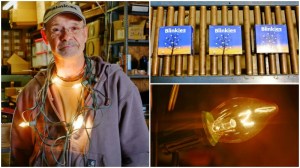 A detour through downtown Kernersville is the perfect end to a long day, watching the magical lights dancing through the trees — like shimmering stars — against the dark canvas of the night sky.
Known as Blinkies, the lights have graced the trees along Main Street for the past six years, creating a sea of sparkles as the lights flash sporadically.
And they have brought national acclaim to Roger's Products, Inc., the Kernersville company that created them. The company is at 1291 South Park Drive.
"They have a mesmerizing look to it that no other light strand has," said Roger Briles, the owner of Roger's Products and the man behind Blinkies. "They sparkle and twinkle, and you just don't get tired of looking at them."
What makes Blinkies unique is that the lights on each strand are spaced 6 feet apart. One set of Blinkies consists of two strands of lights, each 36 feet long, for a total of 72 feet of cord. There are only 12 flashing lights in the set, meaning that only about four lights are lit at any given time.
"With Blinkies, less is more," Briles said. "Twelve lights gives you the prettiest effect and gives you the opportunity to decorate more trees."
Briles created Blinkies more than 10 years ago to hang in his yard, but he never planned to sell them and wasn't even sure whether he really liked them at first.
In 2009, Briles was approached by his friend Rick Pierce, who asked if Briles could make strings of Blinkies to hang along Main Street in memory of Pierce's sister, Pam Pierce-Smith, who had recently died from lung cancer.
Briles agreed and made strands of Blinkies for the street's 22 trees using clear lights and one red one, representing Pierce-Smith as the heart of the tree and noting her involvement with the Red Hat Society.
By the next Christmas, Blinkies were the talk of the town and Briles — who had earned the title "Mr. Blinkie" and local celebrity status — could hardly keep up with the orders. At the time, he was creating the strands by hand in his workshop and working about 14 hours a day to satisfy the growing demand.
"It was infectious, just like magic, everybody wanted them," said Pierce, who hangs Blinkies at his house each year. "They were an overnight sensation and began to spread throughout downtown, and now they're all over the country."
One thing that Pierce likes about the lights is that they're tasteful and make the town sparkle, he said. Blinkies have made Kernersville a renowned holiday attraction.
"People come from all over to see the lights, and locals are constantly altering their ways home from work or looking for a reason to drive through town at night just to see them," he said.
When Ken Idle drives home from work, he always drives up and down Main Street to see the lights, even though it's not on his way home.
"They're so simple, it's soothing and kind of hypnotic," said Idle, owner of Farmer's Hardware in Kernersville. "Everybody comes into the shop talking about the lights, the magical twinkling stars."
In 2009, Idle's hardware store became the first business to sell Blinkies. Each Christmas, Farmer's Hardware sells more Blinkies than it can count.
In the past year, independent hardware stores across the country have picked up Blinkies. They are also sold online — mrblinkie.com — to customers as far away as the state of Washington.
"They're a best-seller, for sure," Idle said. "A lot of people come into our store after visiting their families in Kernersville from other parts of the country and want to take some lights back with them, too."
The strands come with clear bulbs, although bulbs in eight different colors can be purchased, which makes the lights versatile for other holidays, Briles said. The lights are best used in young maples and crepe myrtles, although any tree would work, he said.
Briles recently created a Blinkie spool and adaptor tool, an invention to make it easier and safer to hang lights. The light strands are wrapped around a spool and attached to a long pole so that lights can be put up and taken down without using a ladder.
Briles said he has always liked inventing things, but never dreamed he would have his own Christmas light business.
About 30 years ago, Briles started Roger's Products to manufacture some of his own marine and fishing inventions "for a fisherman, by a fisherman," such as the Super Strap to keep fishing rods secured and the Plug Rug, to hold fishing hooks.
But in the past several years, Briles has created a thriving business in Christmas lights, starting a division called Simply Luminaries.
Simply Luminaries began with outdoor pathway lighting, which includes a series of electrical holiday candles and illuminating Christmas crosses.
But Blinkies are what Briles is best known for. Blinkies have spread all over Kernersville and commuters can see them at Business 40 and Highway 66.
"There's a certain satisfaction to seeing a product you created being displayed and enjoyed by other people all over," Briles said. "It's really neat for me."
The second year he sold the lights, he received an anonymous call from a woman who said she was going through a hard time and thanked him for bringing a little bit of light and magic to her life with the strands that hung in downtown Kernersville.
The testimony touched him, and Briles vowed to continue bringing joy to the community with his lights, he said.
"If I can bring just a bit of magic to the town," he said, "then I'm happy."