This is an archived article and the information in the article may be outdated. Please look at the time stamp on the story to see when it was last updated.
GREENSBORO, N.C. — Mark Walker, Republican candidate for U.S. Representative of North Carolina's 6th Congressional District, held a news conference on Wednesday where he discussed an "ugly" race involving his opponent Phil Berger Jr. and claimed his Facebook account was hacked.
On Tuesday, Phil Berger Jr., released a statement questioning a "pattern of lies" involving Walker. In the statement, Berger questioned whether Walker was "misrepresenting his education."
"Mark Walker's social media profile clearly states that he's an alumnus of the University of North Carolina Greensboro (UNCG). Yet, a records search of Walker attending, enrolling or graduating from the University could not be found," Berger said in the news release.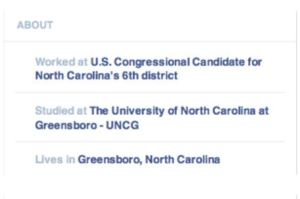 As of Wednesday morning, under the "About" section on Walker's Facebook profile, Walker indicated he "studied at The University of North Carolina at Greensboro."
"An attempt to verify with the National Student Clearinghouse that Walker attended or graduated from UNCG failed to locate an enrollment record or degree," Berger said in the news release.
Berger said even if Walker took one class at UNCG, his "intent" was to make voters believe he graduated from the school.
During a press conference at the Guilford County Republican Party headquarters on Wednesday, Walker said someone "hacked" his Facebook profile in the last 24 hours and added UNCG as his school. Walker did not directly point the finger at Berger, however he suggested it was a political act.
"I have no idea who posted that," Walker said. "I've never put that on my resume or background."
Walker claims the "hack" was intended to portray him as a liar and was a sign of desperation from the Berger campaign.
"It's sublimely ridiculous," Walker said.
Walker also accused Berger of taking money from Super PACs and plans to file a complaint with the election commission.
"It is clear that Phil Berger Sr. has leveraged his position and influence to steer political contributions to the Super PAC supporting his son. This is likely a violation of state or federal law," Walker said.
"This has been the ugliest, most divisive, cowardly campaign I have seen," Rep. John Blust said on Wednesday.
The accusations come as the runoff campaign enters its last week. Voters will decide the race next Tuesday.