This is an archived article and the information in the article may be outdated. Please look at the time stamp on the story to see when it was last updated.
GRAND PRAIRIE, Texas — Folks are flooding Twitter and Facebook with concerns about Ebola and the dog named Bentley.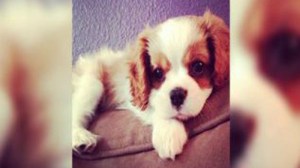 The Cavalier King Charles Spaniel has been put in isolation at a Hensley Field Facility in Grand Prairie after his owner Nina Pham contracted Ebola.
Dr. Catherine McManus with Dallas Animal Services says, "He's now in day eight of his quarantine / isolation."
They are monitoring his health for at least 21 days. Part of that monitoring is checking his feces and urine for signs of sickness or Ebola.
Dallas Animal Services and Texas A&M University's College of Veterinary Medicine & Biomedical Sciences have been caring for Bentley during this time.
According to McManus, Bentley seems to be in good spirits and says, "He just a little love bug and loves everybody even if their in little space suits."
So what's their biggest concern so far? Well, according to McManus it might be that Bentley is getting a little too spoiled. " I had told Nina that the biggest thing when we reunite them to have to worry about is that he gained some extra weight."
Source: KDAF/CNN