This is an archived article and the information in the article may be outdated. Please look at the time stamp on the story to see when it was last updated.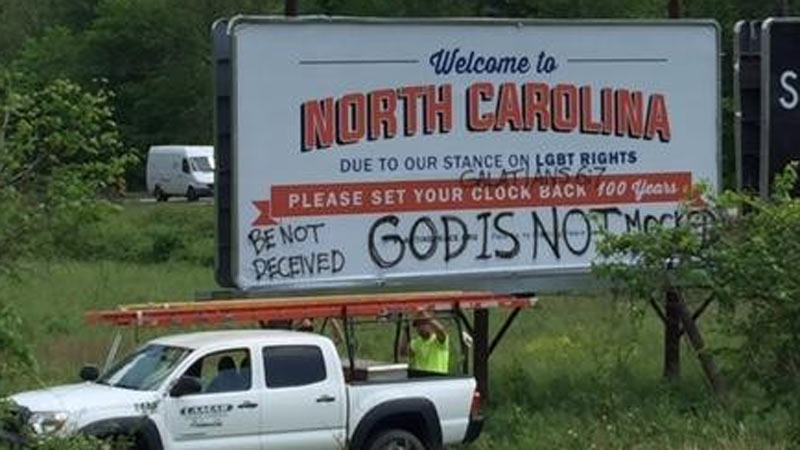 POLK COUNTY, N.C. – A North Carolina billboard that made fun of the Tar Heel state after the passage of House Bill 2 has been vandalized.
WLOS reported that the billboard recently went up in the Polk County town of Lynn, near the South Carolina state line.
"Welcome to North Carolina," the billboard reads. "Due to our stance on LGBT rights please set your clock back 100 years."
It was defaced to read "GOD IS NOT MOCKED" and references Galatians 6:7.
Workers with the billboard company told WLOS at the scene they would not remove the sign with the media watching. However, they said Thursday they will return in the afternoon to bring the sign down.
"Acts like this are exactly the reason Planting Peace has and will continue to stand up to those who aim to bully the LGBT community, using religion as their shield to practice hate," the group said, in part, in a prepared statement. "To be clear, our issue is not with religion, but with those who use it and twist it to further their own agenda."
The Polk County Sheriff's Office told WLOS that a detective said they had not received a complaint from the group that put the sign up. Deputies said they would still be going to the scene to see the graffiti for themselves.
[protected-iframe id="81ead293e325d7722e2b2a83c94b20c9-28572344-29056055″ info="http://wlos.com/embed/news/local/anti-hb2-billboard-defaced-in-polk-county" width="640″ height="360″ frameborder="0″]