This is an archived article and the information in the article may be outdated. Please look at the time stamp on the story to see when it was last updated.
WAGRAM, N.C. — Another giant wild boar has been killed in eastern North Carolina.
Terrell Harris killed the massive boar in Scotland County around 2 a.m. Saturday.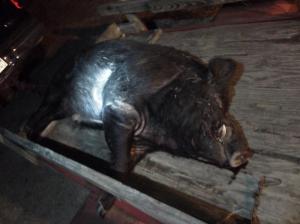 Harris and his friends had to use a winch to load the massive boar on a trailer.
"A friend had pictures of it on a game camera for two nights. It had destroyed a 10-acre field of chuffa," Terrell's wife Dawn said. "Terrell and some friends butchered and processed the hog on Sunday."
Dawn said the boar weighed at least 500 pounds.
Last week, a man killed a 500-pound boar in Bertie County.
Wild boar are not native to the United States — they may have come with Christopher Columbus — and didn't appear in North Carolina until 1912, the state's Department of Wildlife website says. Their average size is less than 180 pounds, the site says.
In North Carolina, wild boar may be hunted year round during normal hunting hours. There is no closed season and no bag limit.
In 2004, a hunter in Georgia killed an 800-pound boar dubbed Hogzilla.