This is an archived article and the information in the article may be outdated. Please look at the time stamp on the story to see when it was last updated.
[protected-iframe id="654c56ba1f68f9776d7ba7c989c3fcff-28572344-44461637″ info="http://abc11.com/video/embed/?pid=540848″ width="576″ height="370″ frameborder="0″ allowfullscreen=""]
FAYETTEVILLE, N.C. — For the second time in three days, a Fayetteville dog owner has bonded out of jail on cruelty charges.
Stephanie Bates, 49, was arrested Friday and charged with felony animal cruelty. She is accused of letting her 3-year-old boxer starve to death from gastrointestinal problems.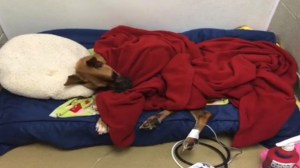 Friday, Bates was released on a $2,000 unsecured bond. However, at her first court appearance Monday, Judge Lou Olivera ordered Bates jailed under a $10,000 secured bond.
Animal rights groups are outraged over the way the family pet died.
"There is no reason for this," said Joe Szymborski, a member of the Carolinas Boxer Rescue Group. "We would have taken the dog. I have two foster [dogs] at home, and we have over 50 dogs in foster [homes]."
Read more: WTVD