This is an archived article and the information in the article may be outdated. Please look at the time stamp on the story to see when it was last updated.
ALACHUA COUNTY, Fla.  – Firefighters rescued a horse after a large tree fell on the animal during a storm in Florida Friday.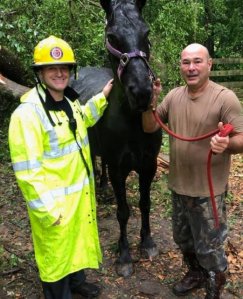 The Alachua County Fire Rescue posted on Facebook that a giant oak tree crashed down on the 14-year-old horse, "pinning her significantly."
"We're happy to say that she was successfully rescued and is resting comfortably this evening under the close supervision of a large animal veterinarian," they said.