This is an archived article and the information in the article may be outdated. Please look at the time stamp on the story to see when it was last updated.
GREENSBORO, N.C. — Is the digital billboard on Battleground Avenue that has garnered national attention just a clever marketing ploy by a company that owns several local restaurants?
The ad claims to be from a woman named Jennifer who uses the billboard to call out her alleged cheating husband Michael.
The message reads:
"Michael, GPS Tracker – $250, Nikon Camera with zoom lens – $1600, Catching my lying husband and buying this billboard with our investment account, – Priceless. – Jennifer."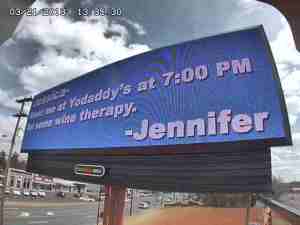 The billboard also contains a note referring to Michael's alleged mistress, Jessica.
"Tell Jessica you're moving in!" it reads.
The billboard has turned a lot of heads, even slowing traffic Wednesday afternoon along Battleground Avenue.
A representative for the billboard company's Facebook page messaged Chad Tucker stating:
"We cannot comment on the billboard content right now. We have asked the sponsor for a statement based on your inquiry."
On Thursday, a new electronic billboard appeared at the same location that reads: "Jessica – Meet me at Yodaddy's at 7:00 p.m. for some wine therapy. -Jennifer."
FOX8 contacted the general manager at Yo Daddy's who said he did not know who purchased the new billboard.
After contacting Kotis Developments, the company that owns Yo Daddy's and several other Greensboro restaurants, FOX8 determined Kotis also owns the digital billboard that was erected last month.
Marty Kotis, Developer and CEO of Kotis Holdings in Greensboro, told FOX8 on Friday that he could not comment on "who is behind the billboards" but was happy to tell us there's a new billboard up today.