This is an archived article and the information in the article may be outdated. Please look at the time stamp on the story to see when it was last updated.
HARRISBURG, Pa. -- A couple has been charged with criminal homicide after their 9 year-old son died from starvation.
Officials say at the time of his death the boy only weighed 16.9 pounds.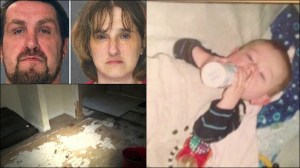 According to WHP, Kimberly Tutko and her husband Jarrod Tutko Sr. were arrested Monday.
Jarrod Jr. was found dead inside his home and investigators say he had been dead a few days.
According to the criminal complaint, Jarrod Jr. was locked inside his bedroom by his parents. There was no bed, no light and no air conditioning. Feces covered the floor and walls.
It was reported that Jarrod did have a developmental disorder called Fragile X, but the coroner determined he died of starvation and dehydration.
Jarrod weighed only 11 pounds more at the time of his death than he did when he was born, according to the criminal complaint.
Authorities say another child with disabilities was near death and was quickly rushed to the hospital. All five of the couple's remaining children are in custody of Dauphin County.
Court documents also reveal the family received $3,191 a month in welfare -- which includes $351 a month in food stamps.
Source: WHP/CNN