This is an archived article and the information in the article may be outdated. Please look at the time stamp on the story to see when it was last updated.
CHARLOTTE, N.C. — A 9-year-old boy in Charlotte is back home with his family nearly one month after he was struck by lightning.
WSOC-TV reported that Khye Felder was playing on a track at Johnson C. Smith University when the storm hit.
Although the shy boy didn't have many words for the hoard of cameras, Khye's family is just happy he's talking.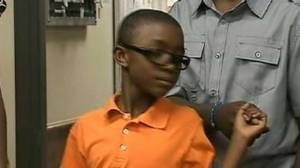 "Every doctor we take him to, they're just like, 'In my 30 years of practice I've never seen anyone recover like this,'" said mother Trina Felder.
Chopper 9 Skyzoom was over the track at on June 25, shortly after police and medic responded to reports of a lightning strike.
Khye was at the field with his family, practicing javelin, when seemingly out of nowhere there was a loud clap.
His mother found Khye lying unresponsive on the field, much of his clothes and shoes burned.
"I'm running toward him, you know, just like he's going to get up by the time I get there. It's just hard to imagine," Trina Felder said.
Channel 9 heard from one of the officers who responded and helped save Khye's life.
"Obviously it turned out well and we're extremely happy and you couldn't have asked for a better outcome," he said.
While you can call Khye a survivor, his siblings are already working up another nickname. They said it was between Bolt and Mr. Lightning.
His family said in the last month he has gone from not walking or talking to running around just like any other 9-year-old.
Khye still suffers from some hearing loss, but with his quick recovery so far his family expects that to return as well.