This is an archived article and the information in the article may be outdated. Please look at the time stamp on the story to see when it was last updated.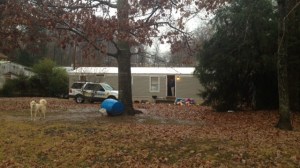 ASHEBORO, N.C. -- A 3-year-old girl was shot by another 3-year-old inside a Randolph County home on Tuesday afternoon.
Deputies responded to a home on Cameron Circle around 12:45 p.m. Tuesday after a reported accidental gunshot wound.
According to officers, an adult female was inside the home with her child and two children that belong to her boyfriend.
The woman told deputies she was cleaning when she heard a gunshot. When she entered the room where the children were playing, she found the 3-year-old girl suffering from a gunshot wound.
Police said they expect to make an arrest as soon as they finish an investigation.
The bullet struck the child in an arm traveled through the arm and entered the abdominal area.
The victim was transported to Brenner Children's Hospital where surgery was immediately performed. Deputies said she was alert when she was transported.
Deputies said a .22 caliber rifle was unsecured in the room in which the children were playing.
This case is still under investigation at this time.
No names will be released at this time due to age of children and notification of family members of the incident.
Randolph County Social Services has taken custody of the other children that live at the home.
Deputies have not said whether charges will be filed.