This is an archived article and the information in the article may be outdated. Please look at the time stamp on the story to see when it was last updated.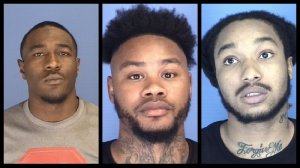 BURLINGTON, N.C. — Three men are charged with going armed to the terror of the public after an incident at a Burlington gym Thursday evening, according to police.
Odis Taquon Covington, 25, of Asheboro, Jaquin Mondrel Smith, 23, of Ramseur, and Myquail Myquis Watts, 24, of Ramseur, were all arrested near the scene.
Officers responded to the Alamance County-owned Broad Street Gym at 6:26 p.m.
Early reports indicated that three people were involved in a "disturbance" at the gym, according to a news release. They had retrieved a firearm from a dark sedan in the parking lot, returned to the facility and brandished the weapon to other gym patrons.
When officers arrived, they saw the suspect vehicle leaving the scene.
Officers stopped the vehicle and detained Smith, Covington and Watts.
Officers also found and seized a SKS assault-style rifle.
The three men, all charged with going armed to the terror of the public, received $1,000 secured bonds.
On Friday, two of the men charged told FOX8 that what happened at the gym wasn't as bad as it seems. They are part of an adult men's church basketball league. An argument started with the other team they were playing and things escalated.
"I thought it was crazy and a lot of other people did too," said Alan Smith, the gym's supervisor.
Smith said this is the first time he experienced a major incident at the gym.
"I've been told this is one of the better places to come," Smith said.
Tony Laws, the director of recreation and parks for the city of Burlington, says his team is looking into what happened and plan to remove anyone involved from the league. They could also deny them access to the their facilities.
"This is way out of the norm for us," Laws said. "Very happy no shots were fired and nobody was hurt."
Laws said no weapons should ever be brought into parks and rec facilities. There are also rules in place, like no gym bags allowed, to keep people safe. Some buildings also have cameras, but that is not the case at the Broad Street Gym.
"I feel like our facilities are safe," Laws said.