This is an archived article and the information in the article may be outdated. Please look at the time stamp on the story to see when it was last updated.
THOMASVILLE, N.C. -- Two people have been charged with felony animal cruelty following three abused dogs being discovered last week.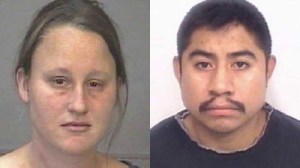 Veterinarians believe the dogs may not have been fed for two weeks. One was literally hours from death.
Police say the dogs, especially one named Hope, have a long road to recovery but their lives were saved thanks to an anonymous tip.
Investigators believe Hope and two other dogs, now named Amber and Lewis, were ignored by their owners.
Edwin Javier Flores and Brittany Dawn Epperson were both charged with felony animal cruelty.
Flores and Epperson are scheduled to appear in court on Dec. 18.
Law enforcement encourages people to speak out if they see an animal being neglected or abused.
Dogs found abused or neglected in the past would have been euthanized due to lack of resources but Ginger's Fund, a non-profit, helps give animals a second chance.
To learn more about Ginger's Fund, visit http://friendsoftheshelterdcnc.com/gingers-fund/.