This is an archived article and the information in the article may be outdated. Please look at the time stamp on the story to see when it was last updated.
SCIPIO, Utah — Three Archdale family members have died in a crash in Utah, according to KSTU.
The crash happened around 8:35 p.m. Tuesday.
A news release from Utah Highway Patrol said a white Porsche Cayenne was traveling east on SR-50 when it passed another vehicle and the driver did not immediately return to its lane.
The Cayenne struck a black Ford Fusion head-on, which caused the Cayenne to flip on its roof and forced both vehicles off the road.
The vehicles then caught fire, the news release said, and the cars' occupants were trapped inside. A passerby cut the seat belts for the passengers in the Cayenne and helped them escape the fire. That driver is stable, while a 9-year-old passenger is in critical condition.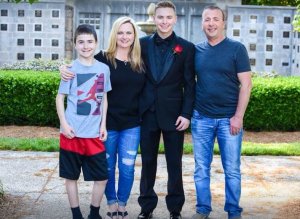 The driver and front passenger of the Fusion were killed instantly. UHP identified them as 47-year-old Tyrone Bova and his wife, 43-year-old Holly Jo Bova, of Archdale.
Haden Bova, an 11-year-old boy who was in the back seat of the Fusion, died on the way to the hospital. A 17-year-old boy who was also in the back seat of the Fusion is in extremely critical condition.
Investigators believe the Cayenne's driver had been distracted by dogs in the vehicle. Speed was also a factor in the crash.
According to UHP, the Bova family was vacationing in Utah at the time of the crash.
Family friends told FOX8 that the Bovas had plans to visit sites, friends and family during the 18-day cross-country trip.
Holly and Tyrone Bova both worked at Carolina Management Team.
"Most folks in the office knew just minutes before I got here," said David Van Zee, the co-owner of CMT. "We just stopped what we were doing and huddled in the training room and just prayed about it."
Van Zee knew the Bovas before they were co-workers and their kids were friends.
"Ty and Holly were one," Van Zee said. "They were meant for each other and supported each other."
On Wednesday night, friends, coworkers and classmates are gathering at Crossover Community church for a vigil at 7 p.m.