This is an archived article and the information in the article may be outdated. Please look at the time stamp on the story to see when it was last updated.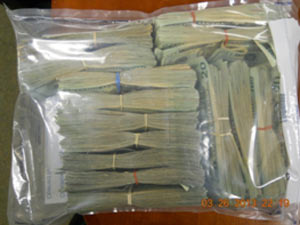 LEXINGTON, N.C. — Deputies say they seized more than a dozen bundles of cash from a vehicle that was passing through Davidson County.
According to the Davidson County Sheriff's Office, deputies stopped a 2005 Dodge pickup truck with California tags for "impeding the flow of traffic" around 5:30 p.m. Tuesday on I-85 South at mile marker 91.  A Texas man was driving the vehicle, deputies said.
Deputies say they used a K-9 unit to scan the truck during the stop.  The K-9 signaled "the presence of the odor of narcotics," after which deputies said they had probably cause to search the vehicle.
During the search, deputies say they found three separate bags that contained a total of 15 bundles of cash held together in rubber bands.  It amounted to $29,000.
Deputies say the driver of the vehicle denied that the cash was his, but he "did admit to recently smoking marijuana in his vehicle with a friend."
The cash was seized "pending further investigation" with Immigration and Customs Enforcement, deputies said.
Deputies say the driver was issued a written warning and released.
No other information was provided.