This is an archived article and the information in the article may be outdated. Please look at the time stamp on the story to see when it was last updated.
MAYODAN, N.C. — Two students were arrested Wednesday morning after a BB gun was seized from a vehicle at a high school in Rockingham County, according to a Rockingham County Sheriff's Office press release.
Deputies went to Dalton McMichael High School in Mayodan after receiving a report that a student had a handgun in his vehicle in the parking lot of the school.
The school was placed on lockdown and officers from the Madison and Mayodan police departments went to the school and found the car.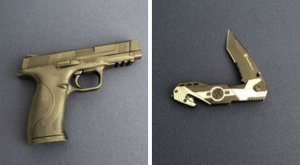 Officers found the gun in the floorboard and determined it was a BB gun.
The owner of the vehicle, 19-year-old Nicholas Kiser, along with an underage student had the gun out and had been handling it prior to the officers' arrival. He was also found to be in possession of a pocket knife.
Kiser was charged with bringing weapons on campus/educational property. He is behind bars at the Rockingham County Detention Facility on a $10,000 secured bond.
The second student was taken into custody and turned over to the Office of Juvenile Justice.