This is an archived article and the information in the article may be outdated. Please look at the time stamp on the story to see when it was last updated.
WASHINGTON — Two million bikers plan to ride through Washington, D.C. on Wednesday to commemorate 9/11 and honor the victims and members of the military called to serve after the terrorist attacks.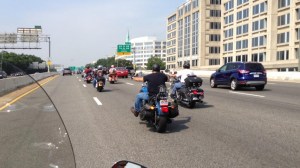 On their Facebook page, the group said they will "stand by the Constitution," stating they are "against any fundamental transformation of America."
The group said the event is "to remember those who were killed on 9/11 and honor our Armed Forces who fought those who precipitated this attack."
A 2 Million Bikers opening rally statement by "Bishop" posted Wednesday to Facebook called the day a "patriotic event."
"This is a God event," it stated. "I believe America has been in a 12-year funeral. But I'm a Christian man and not a Muslim. I believe in the resurrection! God bless America!"
Belinda Bee, national coordinator for 2 Million Bikers, told the Washington Times the gathering was also in response to the Million American March Against Fear (MAMAF). That rally was also planned for Wednesday by the American Muslim Political Action Committee.
The event was previously called the Million Muslim March before it was changed.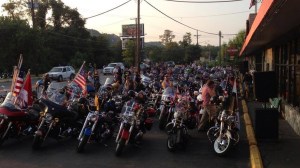 According to MAMAF's  Facebook page, the rally is "a historic event for solidarity of humanity to etstablish peace, harmony and justice."
Organizers unsuccessfully attempted to get a permit to close some intersections along their planned route. The permit would have required road closures in the middle of the day, including major roads and bridges.
National Park Service spokesperson Carol Johnson told US News and World Report allowing the road closures "would cause a severe service disruption of traffic."
The ride kicked off at the Harley Davidson in Fort Washington, Md. at 11 a.m. The group, who stressed the ride would go on as planned, apologized for the gridlock they'll likely cause.
"What could have been a one or two hour ride through will now likely be an all day event," the organizers said in a post on Facebook.