This is an archived article and the information in the article may be outdated. Please look at the time stamp on the story to see when it was last updated.
HIGH POINT, N.C. — Two men were arrested after a pursuit in Guilford County, according to a news release from the sheriff's office.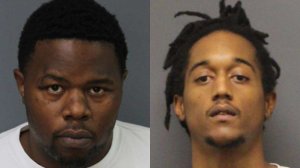 Donquarius Saunders is charged with felony flee to elude arrest, misdemeanor possession of marijuana, resist-delay-obstruct an officer, careless and reckless driving, driving while license revoked, speeding 90 mph in a 35 mph zone, unlawful passing and two counts of failure to stop for a duly erected stop sign.
Jabrell Smith is charged with misdemeanor possession of marijuana and resist-delay-obstruct an officer.
On Tuesday at noon, deputies attempted to stop a Ford F-150 with a Florida tag in the 5200 block of Harvey Road.
The vehicle didn't stop and a pursuit ensued, ending at the Brentwood Crossing Apartment Complex, located at 308 Brentwood St. in High Point.
Saunders and Smith were taken into custody without incident after the pursuit ended.