This is an archived article and the information in the article may be outdated. Please look at the time stamp on the story to see when it was last updated.
WELCOME, N.C. — Troopers say a 14-year-old has died as a result of a head-on crash in Davidson County.
Pam Kearns, a spokeswoman with the N.C. Highway Patrol, says Katlin Dawn Combs of Lexington died in the wreck, which happened around 7 p.m. Sunday on Welcome-Bethesda Road near Hinkle Lane.
According to Kearns, troopers allege Phillip Robert Eisenman IV, 22, of Lexington, failed to stop at a stop sign before making a left turn onto Welcome-Bethesda Road.  Troopers say Eisenman, who was driving a 2010 Chevrolet, cut the corner and struck a 1999 Dodge head-on.
Combs, who was riding in the Dodge vehicle, was pronounced dead after being taken to Wake Forest Baptist Medical Center, Kearns said.
Also in the Dodge was the driver, 38-year-old Mark Allen Vestal, and his son, Brandon Wayne Vestal.
Eisenman, Mark Vestal and Brandon Vestal were also taken to Wake Forest Baptist Medical Center.
Eisenman was listed in serious condition as of last report, Kearns said.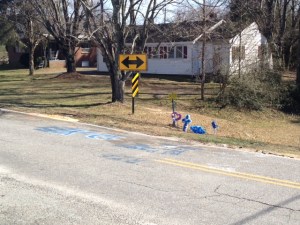 Mark Vestal was said to be in fair condition, but the condition of his son was not clear.
Eisenman is charged with driving while impaired, however officials said he was not impaired by alcohol but another substance.  Additional charges are pending.
The highway patrol says Vestal could also face charges, because no one in his car was wearing a seatbelt at the time of the crash.
Combs was an eighth grade student at North Davidson Middle School, where classmates, friends and their parents are coming to grips with the accident.
"She's really cute, she had a long life to live, and it's taken by the blink of an eye. I don't know, it makes people wake up," said Brooke Williams, one of Katlin's friends.
No other details were immediately available.
North Davidson Middle School issued a statement on Monday:
"We are deeply saddened by the loss of Katlin Combs, eighth grade student at North Davidson Middle School, that was involved in a car accident.
Our focus is on supporting the family and the students and staff of North Davidson Middle School. Guidance counselors, social workers and support staff are on campus this morning to provide counseling and support for the staff and students.
We are asking our school community for their thoughts and prayer's for Katlin's family and for our family of students and staff at North Davidson Middle School."