This is an archived article and the information in the article may be outdated. Please look at the time stamp on the story to see when it was last updated.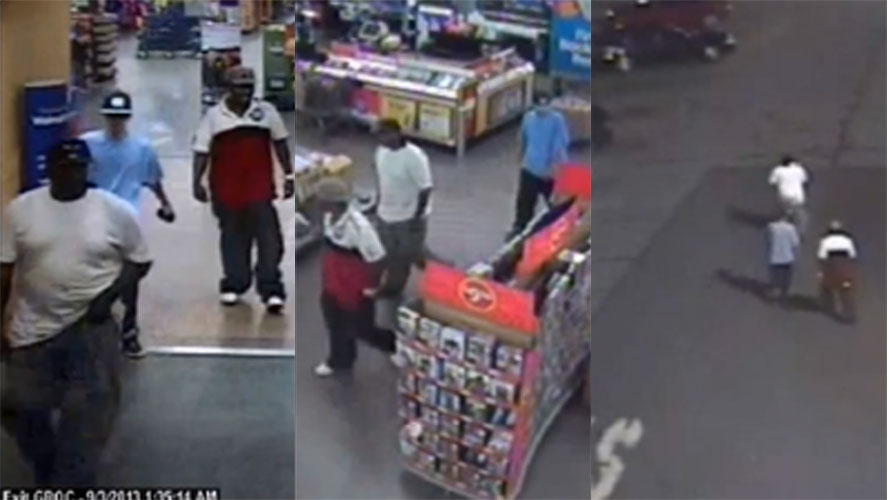 THOMASVILLE, N.C. — Thomasville police said they're looking for three people accused of stealing more than $12,000 worth of cell phones from Walmart.
Police said the suspects stole 21 phones from the display case at the Thomasville Walmart at 1585 Liberty Drive around 1 a.m. Tuesday.
Authorities said the stolen items included the Samsung S3 and S4 models and HTC One and Glacier models and totaled $12,441 in value.
The suspects allegedly hid the cell phone boxes inside their pants, which can be seen in the surveillance footage below.
Police said Walmart employees discovered the crime after checking inventory later that morning.
The first suspect is described as a white male about 5'10" and weighing around 170 pounds, wearing a blue T-shirt, dark pants and a UNC Tar Heels ball cap.
The second suspect is described as a black male around 6' and weighing about 200 pounds, wearing a red and white polo shirt, dark pants and a white ball cap.
The third suspect is described as a black male about 6' and weighing around 300, wearing a white T-shirt, grey pants and a dark ball cap.
The investigation is ongoing. Anyone with any information can call Thomasville Crime Stoppers at (336) 476-8477. Callers may be eligible for a cash reward.